Server-wide McMMO boost
Edit
This pack will give everyone X2 McMMO xp on the main server for 3 hours The boost will not break during restarts.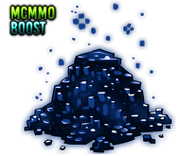 Note: Multiple different booster packages can be active at the same time. Only one McMMO booster can be active.  You can check if there's a booster active by logging in and checking your chat for a notification
The booster will activate directly after purchase. Make sure that there isn't a booster active.
Ad blocker interference detected!
Wikia is a free-to-use site that makes money from advertising. We have a modified experience for viewers using ad blockers

Wikia is not accessible if you've made further modifications. Remove the custom ad blocker rule(s) and the page will load as expected.